Make food taste even better
We sell jam, rubs, pizza sauce, bbq sauce, and hot wing sauce.
Since day one, we've been working tirelessly in order to expand our product offerings and make our customers experience even better. We're proud of how far we've come, yet remain committed to performing even better. Our collections are carefully selected. We have the best burger sauce in Indiana. Delivery options and payment methods generous and flexible. Browse through our product gallery and experience shopping with Midwest Fresh for yourself. Please don't hesitate to contact us with questions, comments or suggestions.
These sauces are amazing! My favorites is the spicy bacon jam and the bourbon mustard. Be sure to check em out if you have the opportunity!
This stuff is great, and I especially love that they ship recipe cards with the products. The bacon jam on brussels sprouts is a game changer!
I've tried everything and it's all delicious! Spicy Bacon Jam is a favorite! The new Mustard Sauce has been great on grilled meats. As has the Blackstrap BBQ and Hoosier 101. They all compliment each other well and provide different options for peoples different tastes at your BBQ.
If you haven't tried these products you should! These are a staple in our pantry now and are good with SO many different recipes. Delicious!
I can't seem to keep this mustard in my pantry. It keeps walking out my door in the arms of others who have also fallen in love with it! And thank you for the extra treat! I am so hooked. Ordering more as soon as I post this review.
I'm not ashamed. I eat this right out of the jar with a rather large spoon.
This is such a big hit with my family and friends, I had to replenish my stash! So, soooo good, on so many things. Or just use a spoon. It's truly addictive.
Award-winning BEST BURGER SAUCE. Originally created for a restaurant hamburger topping, Bacon Jam has grown into the headliner for Midwest Fresh. Gooey bacon and onion marmalade/relish, that has more uses than we know about. -think off the grill. Bratwurst, cheeseburgers, grilled fish, sauteed vegetables, easy to make into a crust or topping, and great as a dip. This is the best burger sauce in Indiana and the Midwest. Also used for Bloody Mary's and recently renowned for use on Charcuterie boards. Will be the spotlight at any gathering or grill party.
2019 LUX Life Best Burger Sauce
2019 LUX Life Leading Artisan Purveyor
2020 GOOD FOOD Awards Finalist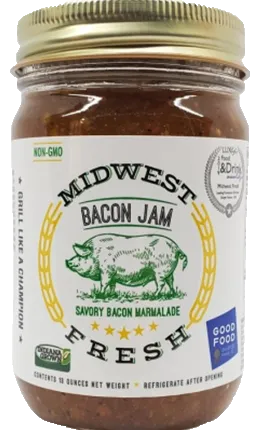 Made with Habanero powder, caramelization sets this spicy variation of our original at a whole new level. This condiment will leave your diners in awe. Awesome as a meatloaf glaze, on deli sandwiches, smashed with avocado, or mixed with our Blackstrap Bbq sauce for a whole new flavor adventure. The Favorite pick from Lt. Governor at the Indiana State Fair in 2018.
Growing up in Indiana has provided me with the flavors of seasons, from fresh sweet corn, to beautiful mushrooms. The Midwest is the best! Hence the name, the calling for something better, something everyone has had but no one has really tasted, until now…